Die Cie. La Ronde gibt ihr Debüt mit einer kraftvollen Produktion namens "8". Die in der Schweiz ansässige Tanzkompanie setzt sich aus einem Quartett international renommierter ChoreographInnen zusammen: Cathy Marston, Ihsan Rustem, Caroline Finn und Luca Signoretti kreieren und produzieren tanzorientierte Theaterwerke. Am 7. April 2022 kommt "8" im Theater Winterthur erstmals auf die Bühne und reist daraufhin im Rahmen des Tanzfestivals STEPS durch die Schweiz. Ein Gastbeitrag in englischer Sprache von Evi Hock (Balletloversblog).
Cathy Marston and Ihsan Rustem, you founded a new dance company based in Switzerland in 2020. Tell us more about the company and about the challenges you faced in this time of pandemic.
We are both choreographers who usually work internationally, often flying between Europe and the US for example. When we were suddenly 'grounded' with the travel restrictions neither of us could stand 'twiddling our thumbs' and watching Netflix all day. We had to find an outlet for our creativity, and so connected with the idea of making a project together. One of our early decisions was to invite 2 other choreographers to join us on this initial project – Caroline Finn and Luca Signoretti, and to decide that this was going to be a company and project that would give us the opportunity to work in new ways, pushing our natural collaborative spirit even more than in our 'usual' work, and that it would be an all-Swiss based team. We wanted to work closely with one another, sharing our individual processes, assisting one another in the studio. We've managed to do these things – and it really is a refreshing and inspiring change from the life of a 'single' choreographer on the road!
In terms of the pandemic, there have been the obvious logistical challenges of meeting and talking mostly by zoom. But, this has enabled our 'Swiss-wide' team vision to function without problems in a way. Out composer, Nicolas Rabaeus, is based in Geneva, set and costumes designers in Bern, light designer in Lausanne, and our company managers are in Bern and the country-side of East Switzerland. The quartet of choreographers are also spread out, between Luzern, Bern and Zurich.
Other Covid challenges have come in the studio, working on a 'character based' choreography in masks. This was frustrating for obvious reasons, but as a freelance company, every missed rehearsal would have a huge impact on our budget, so in addition to health and safety reasons, we needed to do everything we could to avoid infections and canceled rehearsals. We are yet to face the challenges of the tour, but as a group will be committed to working as safely as we can.
How many dancers are Swiss? Most of them are 'Swiss-based' artists of theworld, with international reputations and individual pathways. Please tell usmore about the dancers.
All are Swiss based. Some are Swiss-trained dancers, and almost half are Swiss by nationality. Cathy has also become 'Swiss' in recent years and Ihsan is in the process of the 'Einbürgerung' (naturalisation).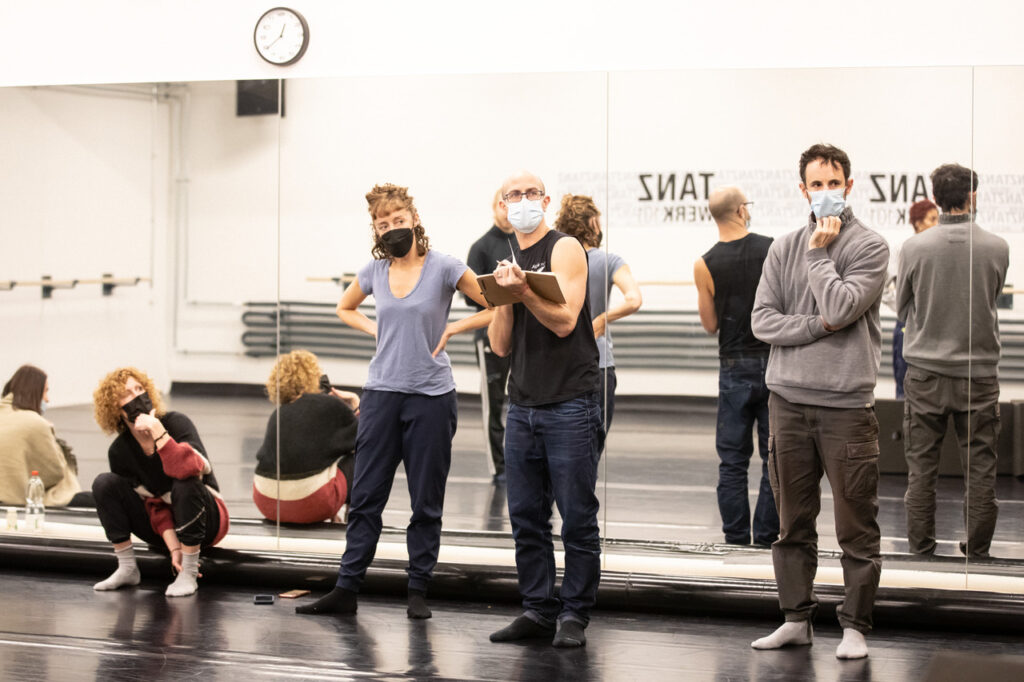 «8» is the first production by Cie. La Ronde. 4 Voices. 1 Vision. 8 Stories. 1 Desire. What is the story behind this? What is the specialty of that piece, and what part did the 4 choreographers play in its production?
We were initially looking for a structure in which all four choreographers could create their own sections of a 'shared' single work. Cathy recalled the play 'La Ronde' which had been on her 'ideas to develop' list for some years. Initially she suggested using the structure – a succession of duets that are linked together like a chain. But when she explained the narrative of Schnitzler's original play, as well as its metaphor for the syphilis pandemic of the late 19th century, we felt that actually we really wanted to tackle the narrative itself, and make our own adaptation for contemporary times.
We spent much time together in the early days developing the concept and structure of the creation and decided to work with 8 scenes that would be inter-connected as they are in the play. There would be 8 dancers, and each choreographer would create two duets or 'scenes'. We would collaborate as a 'quartet' to create the connections between the duets. In addition, each choreographer acted as choreographic assistant to 2 others scenes, and as we come to final rehearsals now, we are all helping one another to finesse the details of every moment. The piece feels so shared that we have actually decided not to list 'who choreographed what' in the program but rather only on our company website – so people can find out if they really wish, but won't be distracted by this information when watching the entire work. It's one piece, by all of us.
4 choreographer means 4 different dance styles and 4 different styles of artistic expression. Tell us how that can come together? What is the style of each choreographer like?
Each choreographer has a different 'method' and this was very interesting to share. Some came with images to the first rehearsals to use as inspiration and to provoke movement. Others brought lists of words. Some make phrases to begin the work with the dancers, others start with improvisation. We were all committed to creating 'characters' and small 'scenes' that tell very miniature stories. We also all worked with one composer, one set designer and one costume designer, who were each asked to help bring our different styles into 'one' piece. These collaborations involved more discussion than usual when there is only a single choreographer perhaps, but in having the conversations we had with these other team members, our ideas became more aligned.
Ultimately, the styles of each choreographer have been challenged in this working process and are perhaps less distinct than when they are creating entirely alone. But we have been happy to be influenced by one another and the dancers, and to allow ourselves to break pattens and habits, and take new risks.
Your very first performance will be at the Stadttheater Winterthur on 7th April.Afterwards you are part of the STEPS Dance festival and will tour inSwitzerland. Tell us about these challenges. How do you attract people to come and see your performance? What sets your performance apart from the rest of STEPS?
We feel very fortunate that, right from the beginning, both Isabella Spirig from Steps and Thomas Guglielmetti from Theater Winterthur understood our vision, and supported Cie. La Ronde by coming on board as Co-Producers. This was an incredible 'kick start', for the company and set the ball in motion, as we suddenly had performance dates and a goal to work towards!
Our model of collaborative working is unusual and perhaps even unique. We hope that it will intrigue people to come see the show. Each choreographer has created in Switzerland before – Cathy directed the Bern Ballett and will direct Ballett Zurich from August 2023. She also created works for the ensemble of Theater St Gallen, Ballet Junior de Geneve and Ballett Basel in the past. Ihsan has made works for Konzert Theater Bern, Theater St Gallen and Luzerner Theater – and danced in both the ensembles of Bern and Luzern. Caroline has created several works for Tanz Luzerner Theater and is currently working with Buehnen Bern. Luca danced in Tanz Luzerner Theater (with Ihsan)and has created for them, as well as on the free-scene. All of us get involved in the Swiss Dance scene in different ways from teaching in places like Tanzwerk 101, ZHDK and other places, to working with the Prix de Lausanne as jury members and choreographers. We hope this wide network will join us in our new adventure! Also, our ensemble of dancers is a very exciting and diverse mix of artists – some from institutions like Ballett Basel or Buehnen Bern, others from the free-scene. Some have a training primarily in contemporary, others ballet, others street dance. Hopefully this team will bring different sectors of the audience to watch the work we've made together!
TOUR DATES AND TICKETS
7 – 10 April 2022 at Theater Winterthur
30.04.2022: L'Octogone Théâtre, Pully
04.05.2022: Theater, St. Gallen
06.05.2022: Phönix Theater, Steckborn
07.05.2022: Luzerner Theater, Luzern
13.05.2022: Stadttheater, Langenthal
15.05.2022: Dampfzentrale, Bern
18.05.2022: Bühne, Aarau
21.05.2022: Cinema Teatro, Chiasso
Photo : G. Batardon